Texas Colon & Rectal Specialists are actively engaged in helping patients beat the odds and achieve stronger outcomes. Our colorectal specialists perform more than 12,000 colonoscopies every year.
According to the American Cancer Society, the risk of colorectal cancer increases between ages 40 to 50, and as a result, it is recommended that a colonoscopy cancer screening be performed no later than 45 (and possibly earlier depending on health and family history).
Learn how leading edge technology and cancer screening protocols assist Texas Colon & Rectal Specialists in delivering outcomes above the national average.

Colon Resections Done Using a Minimally Invasive Technique

Length of Stay for Sigmoid Resections for Diverticulitis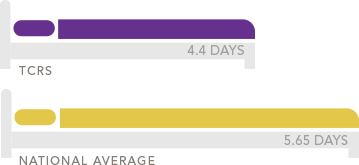 Patient Experience Scores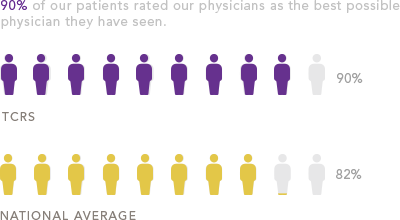 Elective Diverticulitis Surgeries Readmission Rates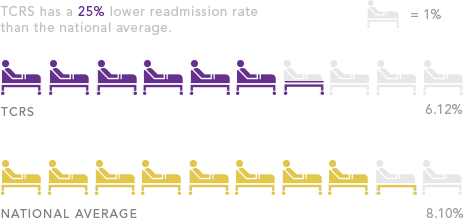 Precancerous Polyp Detection Rate or Adenoma Detection Rate for Screening Colonoscopies


• ADR/Polyp Detection Rate: *Coe, S. & Wallace, M. (2013). Assessment of adenoma detection rate benchmarks in women versus men. Gastrointestinal Endoscopy, 77(4), 631-635. • Patient Experience Scores: Administered through National Research Corporation • Elective Diverticulitis Surgeries Readmission Rates: Al Chalabi H, Kavanagh DO, Hassan L, Donnell KO, Nugent E, Andrews E, Keane FB, O'Riordain DS, Miller A, Neary P. The benefit of an enhanced recovery programme following elective laparoscopic sigmoid colectomy. Int J Colorectal Dis. 2010 Jun;25(6):761-6. doi: 10.1007/s00384-010-0902-0. Epub 2010 Feb 23. PubMed PMID: 20177688. • Length of Stay for Sigmoid Resections for Diverticulitis: *El Zarrok Elgazwi K, Baca I, Grzybowski L, javascriptcks A. Laparoscopic sigmoidectomy for diverticulitis: a prospective study. JSLS. 2010 Oct-Dec; 14(4):469-75. doi: 10.4293/108680810X12924466008088. PubMed PMID: 21605507; PubMed Central PMCID: PMC3083034. • Colon Resections Done Using a Minimally Invasive Technique: "Of the 244129 colectomies performed during the study period, 126284 (51.7%) were Open , 116261 (47.6%) were Laparoscopic and 1584 (0.6%) were robot-assisted". Juo, Yen-Yi, Omar Hyder, Adil H. Haider, Melissa Camp, Anne Lidor, and Nita Ahuja. "Is Minimally Invasive Colon Resection Better Than Traditional Approaches?" JAMA Surgery JAMA Surg 149.2 (2014): 177.
We are proud to have exceeded national benchmarks for safe, quality treatment for colon cancer screening and procedures. We work to provide these preventative services to all patients and improve the outcomes for a healthier you. The providers at Texas Colon & Rectal Specialists look forward to providing important preventative services to you and your loved one in the future. We will continue to measure and share our results so you can be assured of stronger outcomes moving forward.